unsere Crew war bereit - Leinen los in Les Sables d'Olonne
Sie war dieses Mal zu viert – die TRELAX Crew -Egon mit Alex und der Manfred mit seiner Gabi.
Für Alexandra war es dieses Mal eine besondere Herausforderung an sich selbst, nachdem die erste Überfahrt vor 2 1/2 Jahren keine amüsante war.  
72 Stunden mit über 30 Knoten "gegen an"  und permanenten 8 Metern Welle war dies für die erste Segelausfahrt und somit erste Segelerfahrung ganz schön happig. Also – auf geht's  Augen zu und durch.
Gut vorbereitet waren sie alle – ordentlich verproviantiert, des Bootes eingewiesen vom Skipper persönlich, Grab-bags vorbereitet, Wetter gecheckt, ……..
Orca Mordor – Die Erste – überstanden
  Von Anbeginn der Reise hat sich Alexandra ziemlich intensiv damit beschäftigt herauszufinden, wo sich momentan die Orcas auf ihre Reise in den Norden aufhalten. Und es war genau da, wo die Route verläuft. In diversen Kanälen konnte man verfolgen, wo es aktuell sehr gefährlich war – gekennzeichnet mit roten Ampeln und mit grünen dort,  wo es eher entspannt war. Ihre Route zeichnete sich einfach durchgehend gefährlich ab. Über Funk konnten sie verfolgen, dass ein attackiertes und aufgegebenes Segelboot gesucht wurde.  Die Besatzung konnte von einem Fischer gerettet werden, all das nicht weniger als 3nm von der TRELAX entfernt. Gott sei Dank blieb die TRELAX-CREW verschont                   ……………………und kein Orca in Sicht ! Nach drei Tagen und Nächten und ein paar wenigen Stunden erreichten sie am 10. August am Vormittag Porto. Ausser uns haben sich Folgende auf dem Meer bewegt:
Wi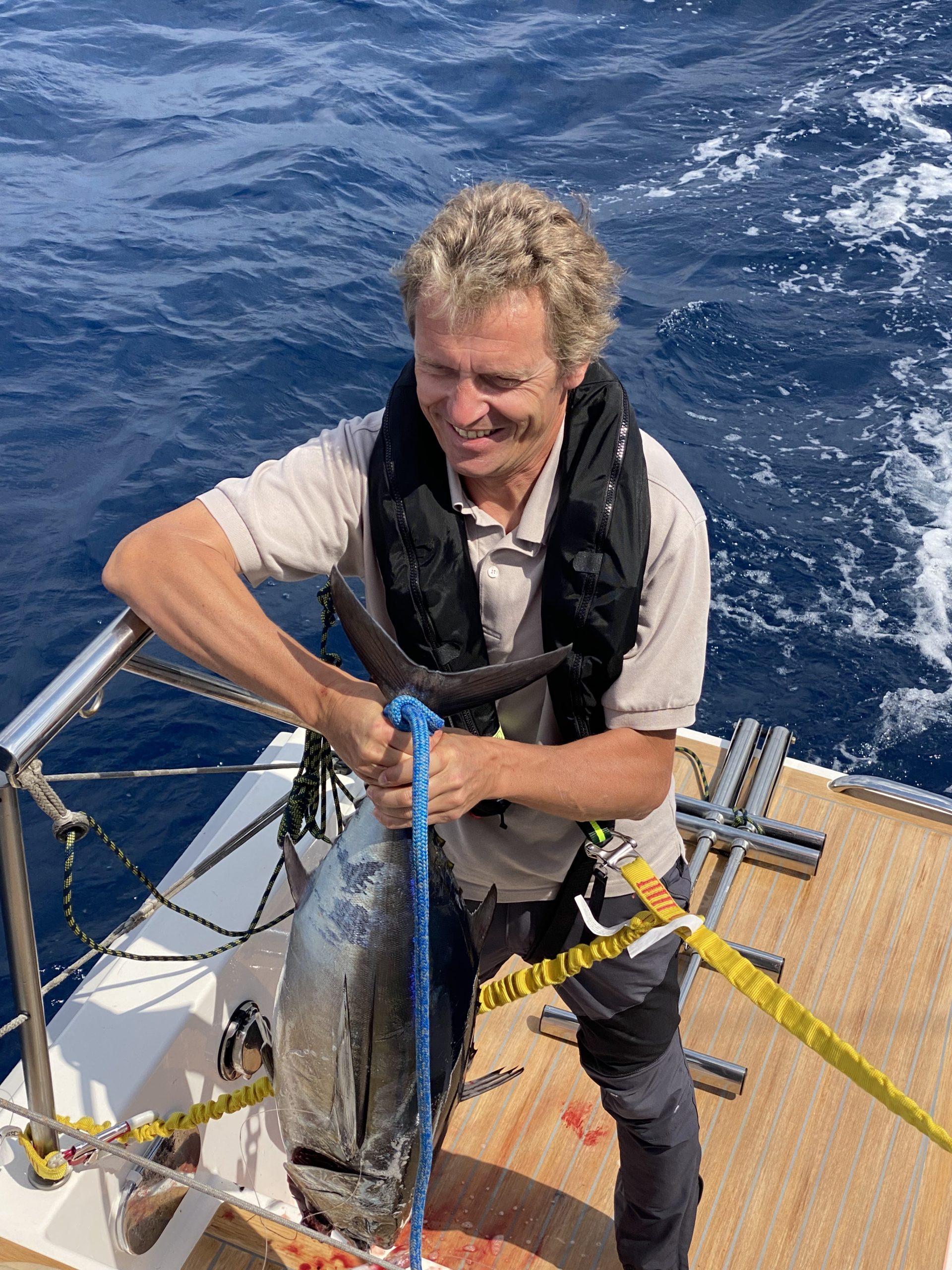 Das Highlight der Überfahrt
war ohne Zweifel der Catch of the day – ein Bonito – ein wunderbarer weißer Tuna von über 10 kg. Eigentlich waren Egon und Alexandra ein wenig skeptisch, mit der Art und Weise wie Manfred die Angelschnur mit dem Köder ins Wasser gleiten liess. Als dann Alex am Steuerstand während ihrer Watch plötzlich ein Rattern der Angelschnur hörte. "Fiiiiiiisch!!!!!!" gellte es lautstark über das ganze Schiff, so dass alle Mann ans Deck strömten – inklusive Egon, der sich eigentlich hingelegt hatte um für seine nächste Watch wieder fit zu sein. Nope – es war eine Challenge, denn das Fischerl  war ganz schön schwer und demnach auch schwierig bei mehr als 7 Knoten Fahrt ins Boot zu ziehen. Dennoch, mit vereinten Krätften haben es die Männer dann letztlich geschafft. Dazu kam noch die Welle, die dieses Unterfangen nicht unbedingt einfach gestaltete.
Manfred hatte dann den Fisch direkt am Heck zerlegt und ausgenommen, anschließend in der Küche vakumiert. Auf das Bonito-Menü in Porto freuten sich alle!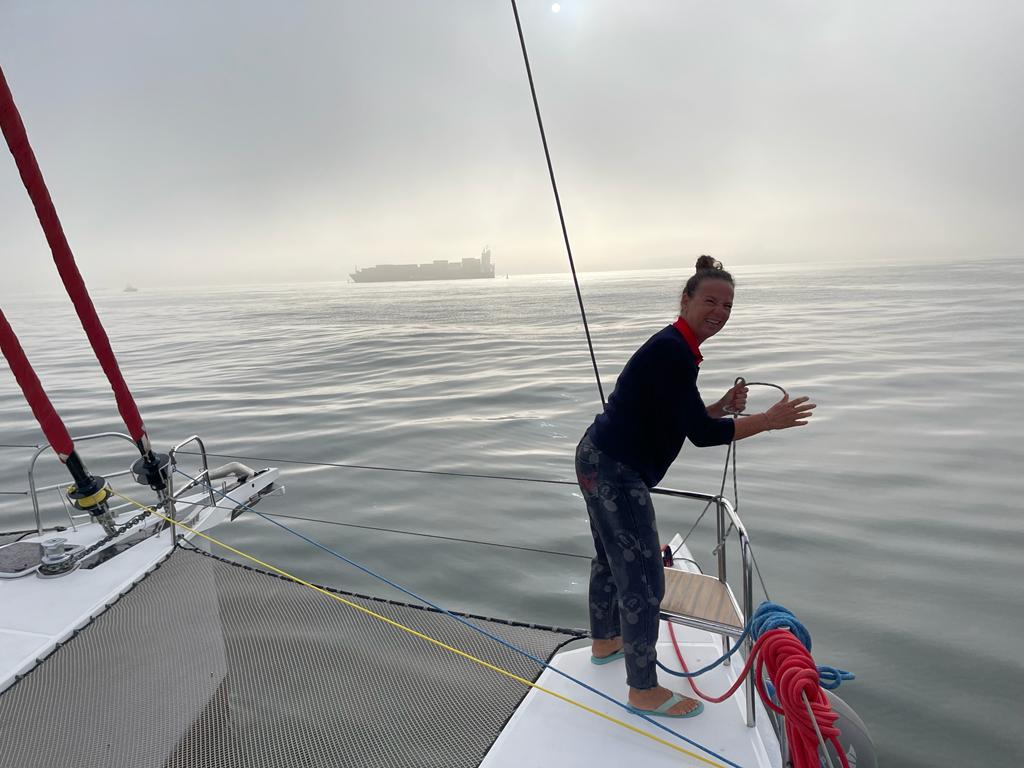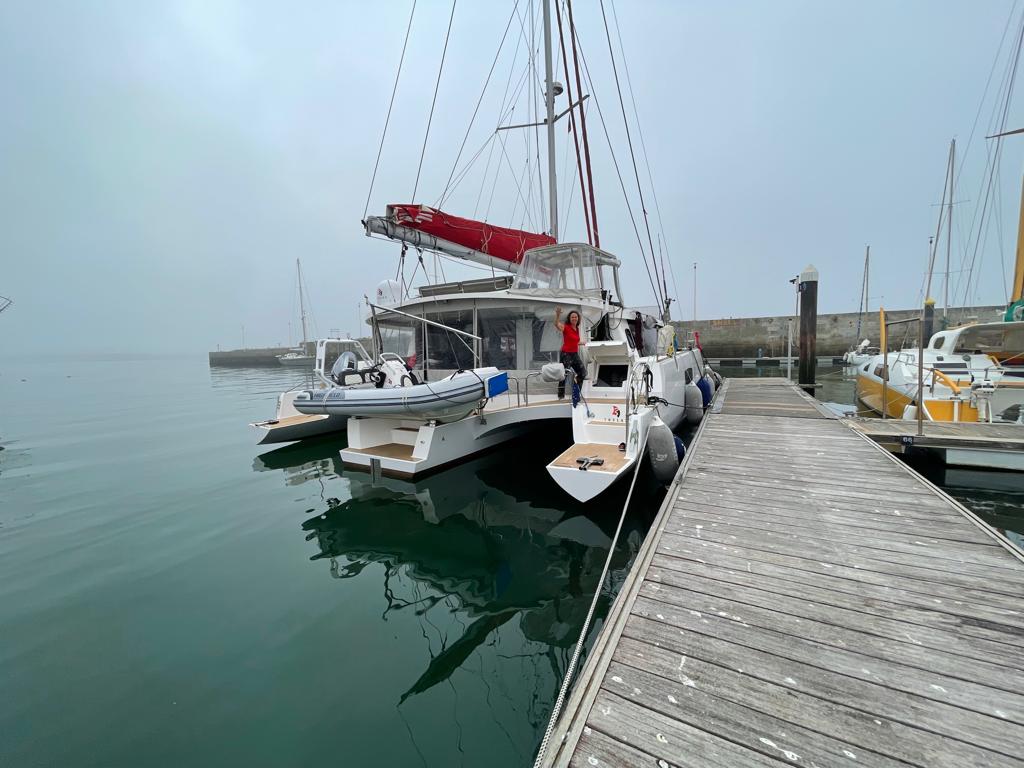 PORTO 
eine schöne belebte und umtriebige Stadt mit besonderem Charme und Freundlichkeit, Lebendigkeit und Gemütlichkeit. Freundliche Menschen und besondere Ausblicke zeichnen diese Stadt aus. Nach unserem Bonito-Menü (Tartare, Cevice und Steak) besuchten wir die Stadt mit dem Touristenbus und genossen die Stadt sehr.
City – Highlights
Sowohl Porto als auch Lissabon waren für alle ein Highlight dieser bisherigen Reise und entlohnte ein wenig die Wartezeit bis jetzt. Der Trip auf der Barfußroute hat begonnen – finally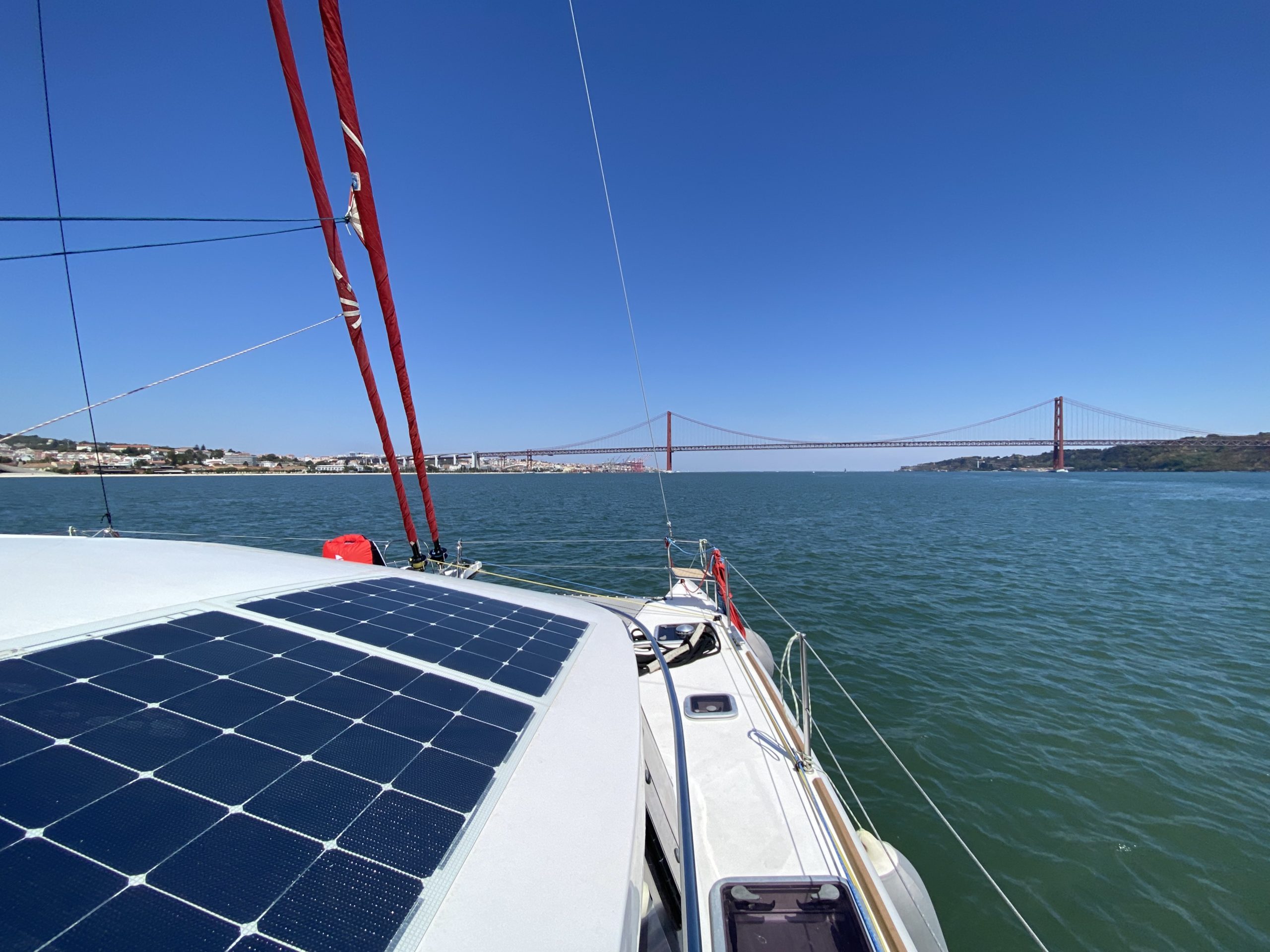 LISSABON - etwas Besonderes
…oh ja, wie beeindruckend war das. Schon beim Empfang dieser Metropole waren sie überwältigt. Die Einfahrt unter der an die Golden Gate in San Francisco erinnernden Hängebrücke war schon ein besonderes Erlebnis. Obwohl die Durchfahrt mit einer lichten Höhe von 70m fast 3 mal so hoch ist wie die TRELAX, sieht es dennoch fremd aus, wenn man von unten das Geschehen beobachtet. Ungläubig sieht man hoch, ob der Abstand wohl hoch genug ist, um schadenfrei durchzukommen.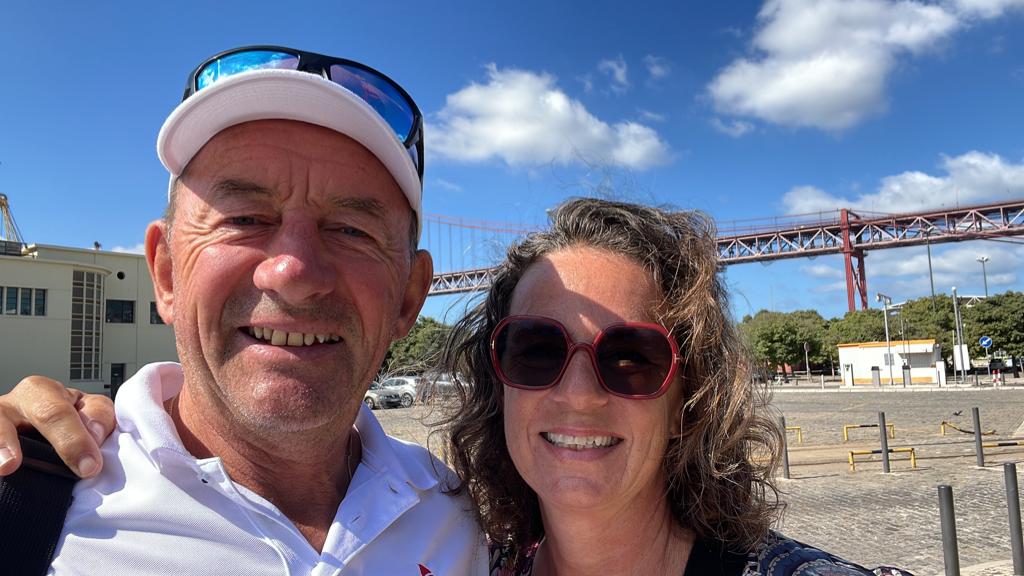 Zwei wunderbar heiße Tage, die einluden,  im Touristenbus in der oberen Reihe zu sitzen, im Freien.
Begleitet von einer großartige Geschichte untermalt mit herrlichen Fadoklängen wurden wir durch diese wirklich riesengroße Stadt geleitet. Zwischendurch gönnten sie sich einen feinen Kaffee oder anderen Drink und hatten riesigen Spass mit wunderbaren Menschen, freundlichen und fröhlichen Leuten, die diese Stadt so sehr prägen. Erlebnisse und Eindrücke die sicherlich bleiben werden.
LISSABON Highlights
dieser Film soll euch einen kleinen Eindruck  dieser faszinierenden und facettenreichen Stadt übermitteln. Vielleicht kann er euch ein wenig das Erlebnis vermitteln, das die beiden so sehr genossen haben.
1.

Ruth – Egons Sis steigt in Lissabon zu

Sie wird die beiden bis Huelva begleiten
2.

Sie werden mit dem Oxley an die Südküste von Portugal segeln

Der Wind passt perfekt dazu
3.

Die Reise soll bis Cadiz führen

Hier werden noch ein paar kleine Reparaturen vorgenommen, um dann von dort nach Madeira zu segeln.