DIE CREW
bestehend aus EGON, ALEXANDRA 
und MAX, der Wackeldackelmutation
der Segelautodidakt ist mittlerweile auf dem Wasser auch so schnell wie auf der Straße. Er hat sich 2019 entschieden, sein Leben auf dem Meer zu verbringen. Nach vielen arbeitsreichen und intensiven Jahren möchte er nun die Zeit ohne weiteren Stress und Arbeitsplan zu genießen, die Schönheiten und Entspannungen zu erleben. Mit seinem Schnuferle Alexandra ist er Ende Jänner 2020 losgezogen…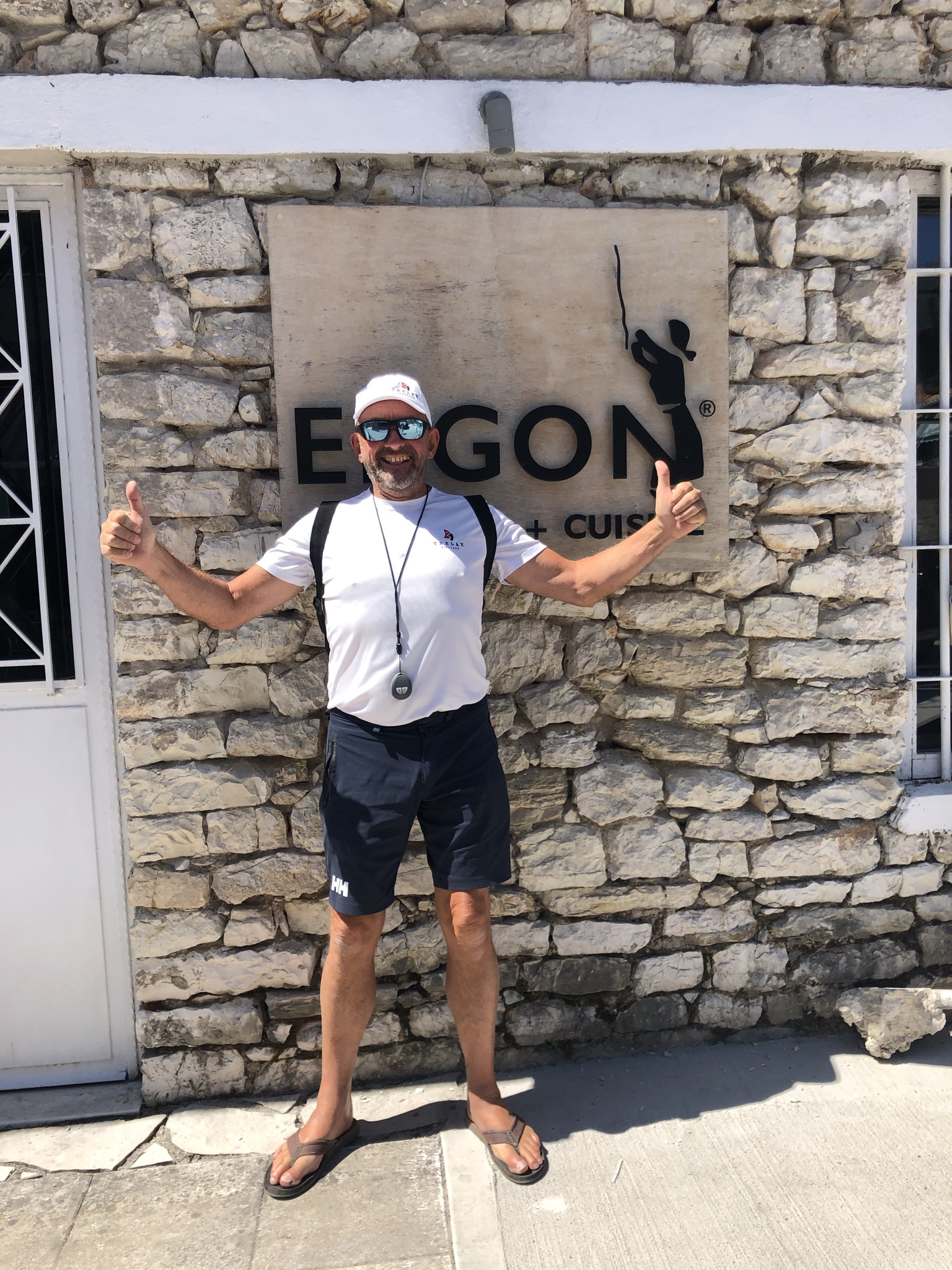 anfangs die linke Hand, mittlerweile auch schon die Rechte vom Captain ;), sie hat gelernt, die Leinen zu werfen., allerdings lange noch nicht so gut wie den Kochlöffel, aber mit der Zeit…    Die Küche ist nach wie vor ihr Revier, in dem sie sich sicher fühlt. Gerne bekocht sie natürlich Egon und auch Gäste, je mehr Gänge, desto lieber.  Mit Segeln und Wasser hatte sie zuvor nichts am Kochhut.  Dennoch hat sie sich, wie Egon auch, das Schöne, die Ruhe und das Leben auf dem Meer zum richtigen Genusserlebnis gemacht.
Ich bin Max, der Storyteller, der euch durch die Seiten begleitet und die Geschichten mit seinem Senf bzw. seinen Kommentaren verfeinert. Genießt es, die erlebten Bilder zu sehen, um euch einen kleinen Einblick in dieses neue Leben zu gewähren.
DEM ALLTAGSLEBEN ENTFLIEHEN
…und gemeinsame Sache zu machen. Nicht mehr den obligatorischen Erledigungen nachzukommen, sondern gemeinsam ein neues Leben zu gestalten haben sich die beiden zum Ziel gesetzt.
… heißt sich aufeinander verlassen, Der Käptain entscheidet, die Crew führt aus. Sie haben sich eingearbeitet und wissen mittlerweile was es heißt auf dem Boot zu leben, ein "Live-Aboard" zu sein.
Natürlich heißt Crew sein auch Spass haben und das so oft es geht. Gemeinsames Glück ist einfach schön, und dies gemeinsam teilen zu können zählt zu den wichtigsten und schönsten Momenten im Leben.
Crewfeste sind anders, sie sind reduced to the max und wenn es w-lan hat, gibt es sie auch virtuell mit der Familie. Ansonsten geniessen sie die Einsamkeit – manchmal mit Segelkollegen, manchmal alleine….
Unter Wasser gelten die selben Regeln, tauchen heißt sich aufeinander verlassen und niemals ohne Buddy auf den Weg machen. 
Sie sind ein Team – mittlerweile ein recht gut eingespieltes. Nicht ohne einander,  ob segeln, ankern, einkaufen, reparieren (manchmal 😏), kochen (manchmal ☺️), tauchen.
Schließlich lieben sie sich und verlassen sich aufeinander, geniessen eine schöne Zeit und schätzen jeden Tag, den sie in diesem Leben erleben dürfen.
wer MEER hat braucht WENIGER
stimmt. Seht euch an, wie die beiden leben, was sie genießen und wie glücklich und zufrieden sie dieses neue Leben bestreiten.
Wir erwarten noch ein befreundetes Paar, die am...
mehr lesen
MONEMVASIA WRACK "CAPTAIN ISMAIL" Bucht...
mehr lesen
Besucht eine Welt, von der viele träumen und reden. Die beiden haben geschafft,  es zu tun. Lasst euch von den Bildern inspirieren und vielleicht dazu motivieren, Dinge zu tun, die Spass machen.